0
(No Ratings Yet)
Cargando...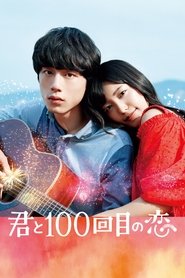 The 100th Love with You
Aoi y Riku, que han sido amigos desde que tenían cinco años, son parte de una banda con otros estudiantes de la universidad a la que asisten. Riku es conocido por ser imperturbable y «perfecto» para los miembros de la banda.
Duration: N/A
Quality: HD1080P
Release: 2017
HD1080P
Hermandad de guerra
Hermandad de guerra
HD1080P
Hermandad de guerra Jin-tae es un zapatero que lleva años trabajando sin descanso para que su hermano menor, Jin-seok, pueda ir a la universidad. Pero todos sus sueños y esperanzas…
HD1080P
Lemon
Lemon
HD1080P
Lemon A sus 40, Isaac Lachmann es un hombre inmovilizado por su mediocridad. Su carrera no progresa, y su novia de los últimos 10 años le deja.
HD1080P
Papita 2da base
Papita 2da base
HD1080P
Andrés y Julissa ahora son padres de Carlitos de siete años y luchan para vivir felizmente como una familia a pesar de ser fervientes admiradores de equipos rivales y de…
HD1080P
Come Sunday
Come Sunday
HD1080P
El evangelista Carlton Pearson está condenado al ostracismo por su iglesia por predicar que no existe el infierno.
HD1080P
Pearl Harbor
HD1080P
Historia de un crimen
Historia de un crimen
HD1080P
En la madrugada del 13 de febrero del 2013, Reeva Steenkamp, una modelo sudafricana, es asesinada en casa de Pistoruis, el famoso atleta minusválido y actual pareja de la víctima….
HD1080P
Fuga de Pretoria
Fuga de Pretoria
HD1080P
Fuga de Pretoria Esta película es un thriller que cuenta la historia de dos sudafricanos blancos que son encerrados en la carcel por trabajar en nombre del ANC, el partido…
TÁR
TÁR
TÁR La mundialmente famosa Lydia Tár está a solo unos días de grabar la sinfonía que la llevará a las alturas de su ya formidable carrera. La notablemente brillante y…
HD1080P
Secret Obsession
Secret Obsession
HD1080P
Secret Obsession Después de ser brutalmente atacada, Jennifer (Brenda Song) se recupera del trauma que ha sufrido, con la ayuda de su esposo, Russell (Mike Vogel). Mientras el detective Page…
HD1080P
Ciudad en frenesí
Ciudad en frenesí
HD1080P
Un hombre encuentra cierta estabilidad y aceptación tras sufrir una infancia traumática en la que vio cómo su hermana iba a la cárcel tras matar a sus padres abusadores. Pero…
HD1080P
Cata amarga
HD1080P
Dos amantes y un oso
Dos amantes y un oso
HD1080P
Roman y Lucy son dos personas que viven en una pequeña y helada ciudad del Archipiélago Ártico Canadiense. Él huye de su pasado, mientras que ella está más preocupada por…