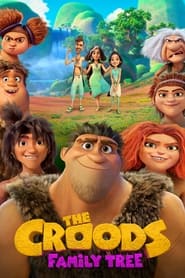 The Croods: Family Tree
The Croods: Family Tree es una serie de animación que se ambienta justo después de la película Los Croods: Una nueva era donde ahora dos familias muy diferentes unen fuerzas para crear una nueva comunidad cooperativa de cavernícolas creando la granja más asombrosa de la historia de la prehistoria.
Luchando por encontrar su propósito en la granja Betterman, los Croods ven una oportunidad para demostrar su valía cosechando las peligrosas y pegajosas moras rebotantes de Phil. Pero cuando Eep quiere un poco de tiempo a solas con su nueva amiga Dawn, Guy encuentra una compañera en Thunk.