The Big Bang Theory Temporada 5 Episodio 11
0
(No Ratings Yet)
Cargando...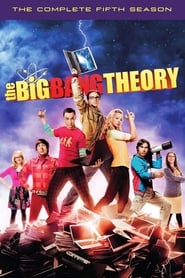 The Big Bang Theory Temporada 5 Episodio 11
Leonard tiene que enfrentarse a sus miedos después de haber sido contactado por un matón de la escuela de secundaria.
Episode Title: La recurrencia Speckerman
Air Date: 2011-12-08
Year: 2011
The Purge
The Purge
The Purge La trama se sitúa durante la saga cinematográfica La purga, que cuenta todos los macabros acontecimientos que suceden en una noche en la que, durante doce horas, todo tipo…
Status: Returning Series
ONE PIECE
ONE PIECE
ONE PIECE El joven pirata Monkey D. Luffy y su variopinta tripulación emprenden un viaje épico en busca de un tesoro.
Status: Returning Series
Cerca de tu enemigo
Cerca de tu enemigo
Cerca de tu enemigo Thriller de espías ambientado en un Londres en ruinas, en los días que sucedieron a la victoria aliada en la 2ª Guerra Mundial. En los albores…
Status: Ended
Catalina la Grande
Catalina la Grande
Catalina la Grande es una miniserie histórica centrada, precisamente, en este personaje de mediados del siglo XVIII. Sus cuatro episodios nos cuentan la historia de esta emperatriz rusa hasta el…
Status: Ended
Chucky
Chucky
Chucky Después de que un muñeco vintage de Chucky aparece en una venta de patio suburbana, una ciudad estadounidense se ve sumida en el caos, luego de que una serie…
Status: Returning Series
El poder
El poder
El poder es un thriller basado en la premiada novela de Naomi Alderman. Podría ser nuestro mundo, salvo por un capricho de la naturaleza que lo cambia todo. De repente,…
Status: Returning Series
Project MC²
Project MC²
Project MC² Camryn (Ysa Penarejo) y Bryden (Genneya Walton) son dos de las estudiantes más inteligentes del instituto Maywood Glen Ademy. Estas dos chicas notan algo extraño en McKeyla McAlister,…
Status: Returning Series
Carlo & Malik
Carlo & Malik
Carlo & Malik es una serie policíaca que se centra en un detective veterano de homicidios, Carlo, que ejerce en la ciudad de Roma. Para resolver los casos cuenta con la…
Status: Returning Series
The Midnight Gospel
The Midnight Gospel
The Midnight Gospel es una serie de animación sucesora de Hora de Aventuras. Narra la historia de Clancy, un presentador espacial con un simulador de multiversos que funciona bastante mal. Clancy deja…
Status: Ended
Gotham Knights
Gotham Knights
Gotham Knights A raíz del asesinato de Bruce Wayne, su rebelde hijo adoptivo forja una alianza improbable con los hijos de los enemigos de Batman cuando todos son incriminados por…
Status: Canceled
We Are the Champions
We Are the Champions
We Are Champions es una serie documental que trata las competiciones más estrafalarias e inólitas de todo el mundo mediante declaraciones de las personas que juegan a ellas y que…
Status: Returning Series
Sucesor designado
Sucesor designado
Sucesor designado es una serie dramática de ABC. El nombre de esta serie creada por David Guggenheim proviene del «superviviente designado», que hace referencia al miembro del gobierno que no…
Status: Returning Series